Would you do anything for love?
Have you ever gone like a bat out of hell?
Do you think two out of three ain't bad?
(And would you - O! On a hot summer's night, would you offer your throat to the wolf with the red roses?)
I bet you say that to all the blogs.

Got it yet?
Meatloaf
, ladies and gents, is our first victim in this week's Root Shoot and Marry - or Shag Shoot Marry - or Cliff Shag Marry - and what a fine victim he is.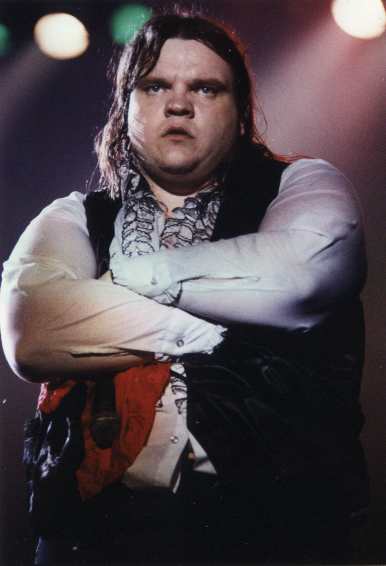 Did ever a man on the stage manage to be simultaneously so repulsive in figure, so attractive in song?
This week's theme - Ugly But Interesting - is brought to you by the
lovely Badger
who took the words right out of my mouth
last week
when she noted that the theme of too much boobage put her in mind of Meatloaf, a man she would
totally
marry.
Dear god but I love a dare.
Who to join the man who was sacrificed on the altar of the
Rocky Horror Picture Show
?
Fortunately, the ranks of Ugly But Interesting Gentlemen around the world are not small.
And look, before you all start moaning that it's too hard and why can't you have some pretty ones for a change let's just pause and consider that:
You get to

kill

one of them
It's Ugly But Interesting not

Rich and Fatuous

like a couple of weeks ago.
I've cast the net wide here - I reckon at least one of these guys is going to rock your boat.
Number 2 is Neil Young.
Number 3 Ozzy Osbourne
You notice I've had to go back in time a little to get these three together? I guess it won't shock anyone to discover that, since about 1995, it's been impossible to get a recording contract without rating high on the Prettyometer.
Happy to be proved wrong.
*****************************
And now the ladies - ah, the ladies.
Now
this
was hard. Because it's been impossible to get
anywhere
as a woman unless you knock the top off the Prettyometer since about - oh, I'd say
FOREVER.
What? You aren't surprised by that either? Hmm. You guys are smarter than you look.
Even not-classically-attractive women like
Nina Simone
get whacked with the beauty stick - especially in the kinds of photos you can find freely on Google images.
So. Since there is NO SUCH THING AS AN
UGLY
WOMAN (and here I nod to the many image issues out there too) I'll focus on
Interesting
, because there's certainly no shortage of that:
(and, after my hubris over photos, I suddenly hit my upload limit for the month on Flickr so while I'm considering whether to upgrade to Flickr Pro, you'll have to deal with the links for these women)
1.
Michelle Shocked

She can sing, she can write, she has guts, AND she has her own font. It's true. Check out her website.
2.
Whitney Houston
Ok, so not
classically
interesting, as in, having anything to contribute to the world or anything important to say about anything at all... However, I would take any excuse to share this link to Snarkywood's "Mad As Batshit Whitney" snark. Enjoy.
3.
The Dixie Chicks - all three of them.
A long long time ago a friend of mine returned to Sydney after backpacking through Europe where - as happens - she met lots of Americans and Canadians. She brought back a fervent love of this new band called the Dixie Chicks. I thought it sounded a bit country.
But now? I could
kiss
them. Oh yeah. Take
that
bit of girl-on-girl foursome action, Google!
Root Shoot Marry Rules are on the nav bar at the top of this page. You are free - nay, encouraged - to tackle both genders.
mtc
Bec